Studying abroad has never been so easy
Are you ready for your overseas study plan? What do you need to prepare for studying abroad?
Studying abroad has never been so easy
In the current context of globalization, the demand of learning and experiencing in a modern learning environment, as well as in a dynamic living environment in developed countries is considered to be fundamental by every individual, not only by students. As the old once said "Travelling forms a young man", it is rather accurate when applied for studying abroad in order to expand vision to the world.
As fishes swimming towards the vast ocean, overseas students have the opportunity to gain access to advanced civilizations, cultures and societies, as well as to study in a developed educational environment and meet a large number of friends all over the world.
When studying abroad, overseas students are not only be able to achieve academic degrees to apply for high-paying jobs, but also are more likely to have the opportunity to extend their living viewpoint, learn more lessons and enrich their knowledge from their personal experience in a distinctive living environment to ultimately have the most practical insight of the world.
So, are you ready for your overseas study plan? What do you need to prepare for studying abroad?
The most important thing to make your dream of studying abroad come true is your financial capacity. In order to take control of your life and devote yourself to studying well, you will need an appropriate financial plan. At first, you need to estimate total cost for your studying period. You can refer to data of the average training costs currently published by HSBC: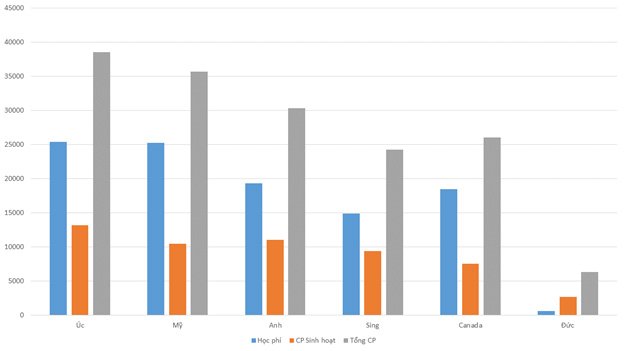 Comparison of the overseas study costs in U.S. Dollar
Besides, in case you do not have enough time to wait for the savings to accumulate, Sacombank can offer you a preferential package of Study abroad loans at low interest rate and quick procedures.
During studying abroad, you can rest assured by products and services of Sacombank:
+ Combo package: including convenient current accounts for your family in Vietnam to transfer money for you to cover your living cost.
+ Debit card/ International credit card: applicable for for transactions all over the world
+ IB/MB: Online transactions anytime, anywhere.
Read more:
10 advantages of studying abroad
You can control your finance, which procedures do you need to perform to study abroad?